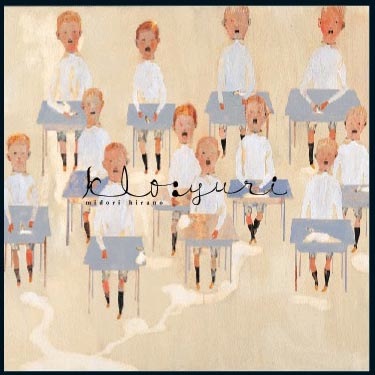 Genre :
Ambient, Electronica, Classical, Experimental, Glitch
Myspace
Download
Tracklist
:
01. terra
02. faceless angel
03. feathers
04. null
05. out
06. transition
07. sora
08. caracole
09. cells that smells sounds
10. solar eclipse
New fascinating beautiful album from the impeccable Noble imprint. Intricate fusion of piano, strings, and electronics. Beautiful glitch-chamber music. This is Midori Hirano's follow up to 2006's debut LP.

After graduating from university with a major in classic piano, Midori Hirano started creating music with the help of her computer. Her participation in compilations by overseas labels and EP releases led to the release of her first album from Noble in September 2006. Her musical activities spread its wings throughout the world through remix and collaboration with fellow artists and creating music for European and Asian movies. This February, Midori Hirano became the only Japanese to be invited in the composer category of the "Berlinale Talent Campus", a program for aspiring young film makers hosted by the Berlin International Film Festival.

Her latest album has removed many of the live instruments seen in her first album and is replaced by electronic sounds, improvisations and field recordings. midori's murmuring vocal heard only in a few of the songs in her previous album are back again in almost half of the tracks with a slightly stronger voice in comparison to the last. The artist worked alone on almost everything from the composition to remix in her previous album. This time, Hiromits Shoji of soundworm has taken on the mix and mastering to bring tenfolds of depth and strength to the album with his unique musical structuring.

The tingling excitement of improvisation and the spiritual melody like sacred music.the fragile but thoughtful voice and suggestive lyrics like an ancient European.midori hirano's new album is a woven fabric of originality that proves the artistic maturation of the artist and her sounds with its deep stoicism and uncompromised beauty is awaiting for you to enter its labyrinth of sound.

Born in 1979 in Kyoto. Midori hirano started creating music on her computer after graduating from university with a major in classical piano. In 2004, she released the EP "Poet at the Piano" from Luxembourg label soundzfromnowhere and participated in shows throughout Europe.

In September 2006, she worked with guest musicians on her first album "LushRush" released from noble records. Following the release, she has played both with bands and as a solo performer mainly in the Kansai area. Musicians that she has performed with in the past include Momus, Shugo Tokumaru, O.lamm, mama!milk, mamie-MU (dumbtype), and YTAMO (Urichipangoon), among others. In addition to her own work, midori hirano also works with domestic and international artists in remixes, collaborations, and label compilations, and also creates soundtracks for European and Asian films.

In February 2008, she participated in the "Berlinale Talent Campus", a program for young filmmakers hosted by the Berlin International Film Festival. She was the only Japanese artist to be invited in the composer category. In October 2008, the release of her new full album "klo:yuri", her first album in 2 years, is scheduled to take place.